Because changes on Grounds can impact our neighbors too, Community Relations communicates University news and developments to area residents. The office actively works with residents, University officials and students to address issues of mutual interest and concern that often arise when student renters live among longer-term residents.
The office meets regularly with neighborhood associations bordering the University and hosts Neighborhoods Advisory Group and other meetings throughout the year to promote ongoing dialogue with neighborhood residents.
Our Neighborhoods: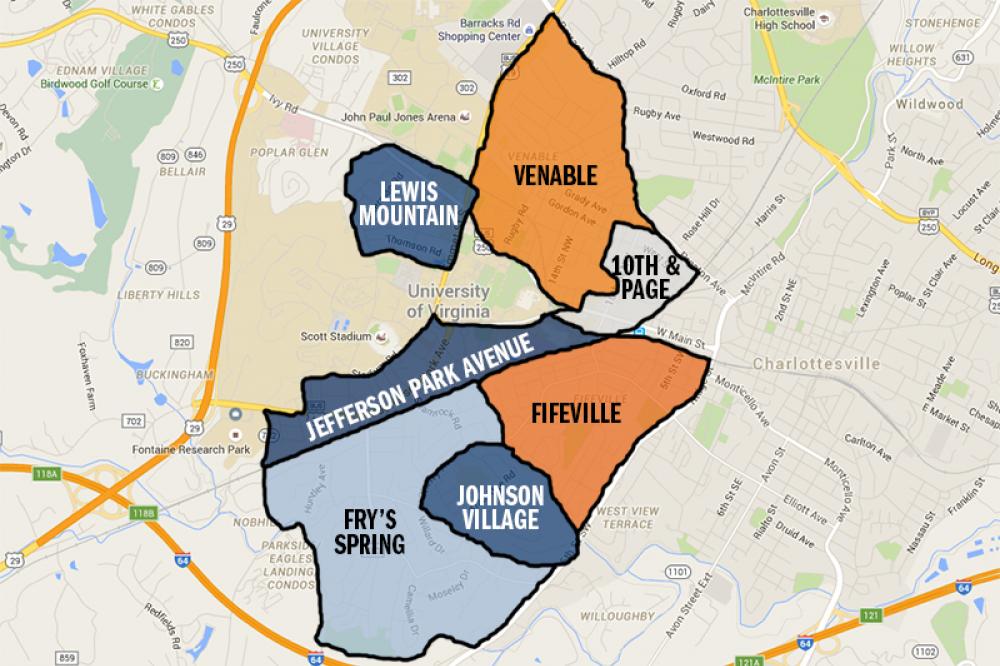 The 133-acre Lewis Mountain Neighborhood is home to many University professors, administrators and students. A small commercial district at the north edge is home to a variety of restaurants and shops.
Neighborhood Presidents: Terry Forbes and Bill Rockwell
Venable, a 133.23-acre neighborhood just north of the University's Central Grounds, is home to the Rugby Road area and The Corner, a business district filled with shops and restaurants, located on University Avenue between Chancellor Street and 12 ½ Street. Historically an important student housing location, many of the large, late 19th century houses in the area are student rentals.
Venable Neighborhood President: Rachel Lloyd
University Circle Neighborhood President: Karen Dougald
Fifeville, a 252.7-acre neighborhood comprised of Blue Ridge Commons, Forrest Hills and Orangedale, lies adjacent to the West Main Street Corridor. While mainly a residential neighborhood, Fifeville is also home to Cherry Avenue, which contains several local businesses.
Neighborhood President: Carmelita Wood
The Jefferson Park Avenue (JPA) neighborhood, located in the southwestern part of the city, is comprised of approximately 94 percent rental properties. Covering nearly 173 acres, its boundaries are the Norfolk and Southern railroad to the southeast, the University to the north, city limits to the west and JPA to the northeast. Major arteries include JPA itself (an entrance corridor), Fontaine Avenue (an entrance corridor) and Stadium Road.
Neighborhood President: Nina Barnes
Tenth & Page, one of the smallest residential areas in the city at around 84 acres, contains a large number of houses and buildings from the 1920s as well as numerous recently constructed homes. The neighborhood is bordered by Southern Railroad to the east and CSX Railroad to the south. Neighborhood streets include Preston Avenue, Grady Avenue and West Main.
Neighborhood President: Vizena Howard
Fry's Spring, one of Charlottesville's largest neighborhoods, is named for the area's original owner, James Francis Fry, and the natural springs that were a local attraction. The associated Fry's Spring Beach Club was built in the early 20th century. Azalea Park, the neighborhood's large natural park and play area, provides garden lots for rent to area residents.
Neighborhood President: Brian Becker
Corner Business Association
A short walk from the Rotunda, "The Corner" on University Avenue is one of the most memorable places on Grounds and the social center of University life. The Corner houses student bookstores, cafés, boutiques, ice cream shops and night spots. Afternoons are particularly active on The Corner, as visitors, students and members of the University community meet for lunch, shopping or a cup of gourmet coffee.
President: Andy McClure
Johnson Village is located in the southwest sector of the city. The neighborhood is suburban in character, primarily consisting of single-family detached housing units. This well-established neighborhood is also attractive because of its mature tree canopy and manicured lawns. It is in close proximity to both UVA and downtown Charlottesville.
Neighborhood President: Heather Walker